It is with nothing but extreme pleasure that I write to you today as a proud sponsor of the Indie Book Collective's Blog Tour de Troops. I want to take a moment to thank the IBC for their tireless efforts. For this weekend, they not only support writers like us, but the many men and women who fight for our freedom. The freedom that allows us to write. So please take an opportunity to applaud them for their efforts and time and commitment. To learn more about this special event and how you can become involved, I invite you to visit their blog.
~~~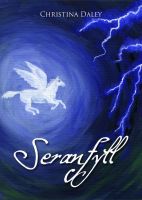 As a sponsor of this great event, I am here to offer you a review of a book that I hope will soon come to live upon everyone's shelves: Seranfyll by Christina Daley.
Every once and awhile you read a book that moves you. A book that tackles your heart and soul with such raw emotion that you have no chance of escaping it. Today, I write about such a book. It's title? Seranfyll.
Seranfyll is a young adult fantasy novel about slaves, love, friendship, choices and consequences. I am actually near speechless at what a fantastic job Ms. Daley did at intricately weaving together each of these aspects.
We follow three main characters: Lord Domrey Seranfyll, Rain and Coal. The story begins with Rain, who, because of reasons beyond her master, Lord Peachtree's control, is forced to leave the home she has served her entire life. Rain had been about as fortunate as a slave could be. Lord Peachtree had been a kind and gentle master.
Lord Seranfyll is a noble man. A rich man. And, quite a silly man. During one of his drunken stoopers, he acquires quite a few slaves, including our dear Rain and Coal.
These three provide nothing but pure entertainment for the reader as we follow them through a world of flying horses, magic and some not very nice characters, including Lord Morgrav. There are many times throughout this book where I just simply had to laugh out loud.
Seranfyll is a heart-warming tale about what good can come in life when people care, and when people love a little.
My only complaint with the book is the unfortunate fact that it indeed had to end. I held Domrey, Rain, Coal, Hope and Quinn so very close to my heart. I really wasn't ready to part with them.
I cannot even begin to tell you how highly I recommend this book. You will laugh, cry and most certainly want to read the book again.
In closing, I leave you with a little saying from the book: "Ba-cluck!" (you're just going to have to read it to understand this one!)
Happy reading, my friends!