To celebrate the release of her latest poetry collection, Threads of Life, Author Jessica Kristie is offering her debut collection, Dreaming in Darkness for FREE!!!! But hurry, this offer is ONLY good today and tomorrow!!!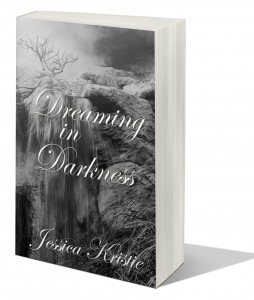 Immerse yourself in the award-winning and 2011 Pushcart Prize nominated poetry collection, Dreaming in Darkness, from writer Jessica Kristie. Share the passion and anguish, the acceptance and regret that life imposes on us all. Feel the validation of your pain, discover empowerment through understanding, and be reminded that a light always exists when you are Dreaming in Darkness.
GET YOUR FREE COPY HERE!!!!!!!!!
ALSO!! Don't forget to check out her latest release, THREADS OF LIFE
Barnes & Noble and Amazon
Enter the astonishingly honest world of American poet Jessica Kristie. Her new book, Threads of Life, is a crushing testament to the pain and anguish surrounding dysfunctional relationships. This author of the award-winning  and Pushcart Prize nominated volume, Dreaming in Darkness, has gone deeper into the human soul, revealing a fascinating understanding of those who are forced to endure the bleakest of circumstances, and affirming that true forgiveness is achieved through one's own inner peace.
Jessica Kristie is the author of several poetry books, and the co-creator for the Art Platform book Inspiration Speaks Volume 1 which is now available in print and eBook through all major retailers, and benefits ColaLife.org. She is also the founder of the Woodland, CA, poetry series, Inspiring Words–Poetry in Woodland.
Dreaming in Darkness is Jessica's first volume of poetry which is the winner of the 2011 Sharp Writ Award in Poetry, and is nominated for a 2011 Pushcart Prize. Jessica's second book, Threads of Life, was released March 2012 through Winter Goose Publishing. Her first spoken word CD, Road Maps, will be released late 2012.
Jessica has been published in several online and print magazines such as Zouch, Muse, A Writer's Point of View and TwitArt Magazines. You can find all of Jessica's appearances under her Press Page at JessicaKristie.com.
Born and raised in the San Francisco Bay Area, Jessica Kristie discovered her passion for writing as a child. Her inspiration comes in many forms, often inspired by just a word or quickly fleeting emotion. Through years of writing she has been able to capitalize on her experiences, whether they are painful or joyous. She hopes to draw you close to her world through shared emotion while inspiring you to forgive, remember, and heal.
Connect with Jessica on her website, Facebook, and Twitter